The referral program is already on board!
Good day, friends!
Today we have great news that will delight almost all of you. Even those who, for some reason, do not mine on our pool :) We believe that there should be a lot of good things, so we need to start sharing it!
The flexible referral program is up and running!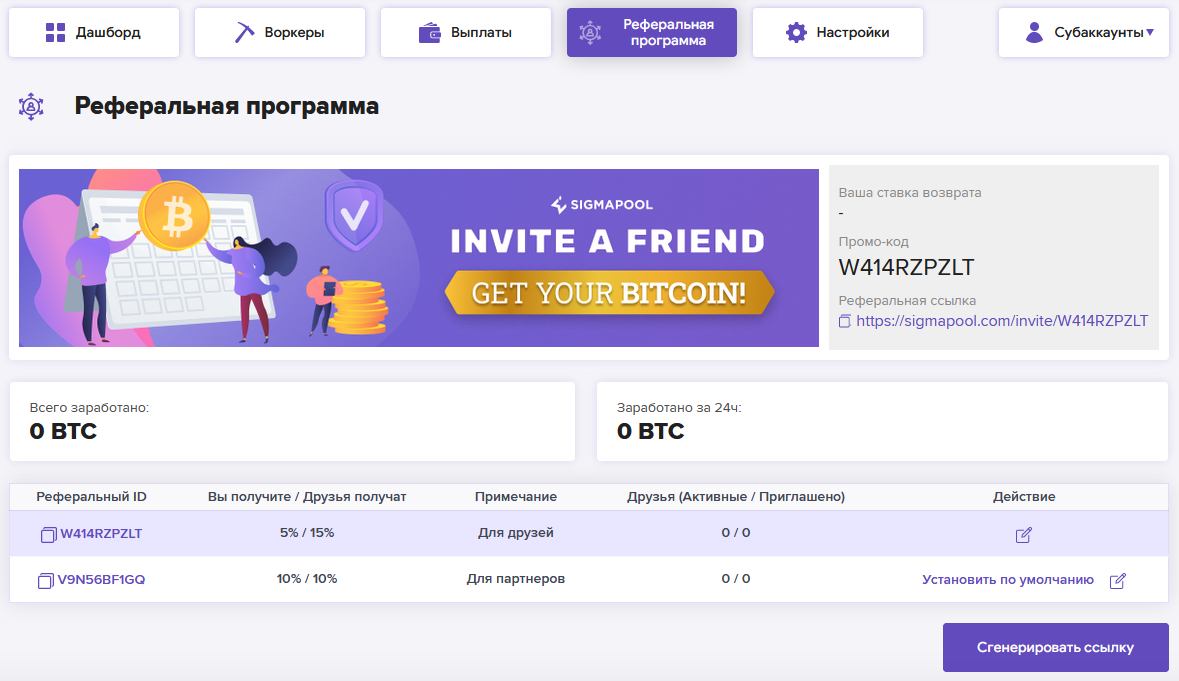 Over time, Sigmapool has acquired various tools and favorable conditions that allow you to customize the operation of the pool for the convenience of each user. Now you can share the benefits and convenience with your friends, colleagues and acquaintances, receiving additional income for this.
The features and principle of the program are as follows:
- To participate in the referral program, the user needs to create a referral link.

- Referral program bonuses are calculated as a% of the pool commission accrued for users invited via referral links.

- When creating a referral link, you need to set up the percentage distribution of charges for you (referrer) and your partner (referral). The distribution is saved when the link is created and cannot be changed later. Distribution - grid from 0 to 20% in 5% increments.

- The maximum number of referral links for one user with different distribution is 5.

- An unlimited number of referrals can be invited for each link.

- To become invited via the referral link, you need to follow this link and go through the account registration procedure.

- The percentage of the discount as an invited user (referral) is displayed in your personal account in the Referral program section as your return rate.

- Earnings from accrued bonuses as a referrer is displayed in the Referral program section as Total earned / Earned in 24 hours. In the same section below - the number of invited referrals and other information on referral links.
If you have any additional questions, we will be happy to answer them! We wish you successful mining and reliable referrals!